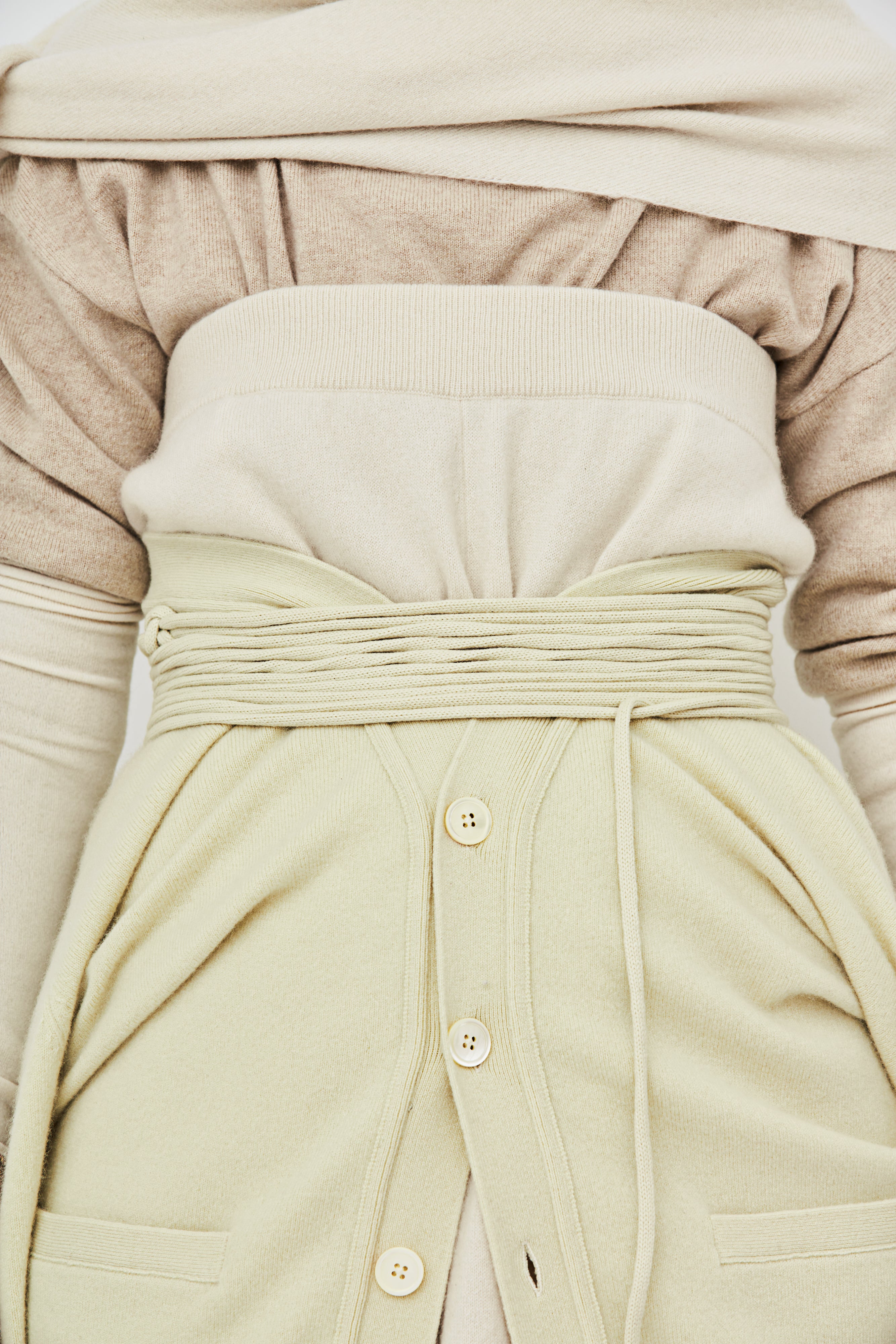 about the brand
How does your one size approach work? How do I make sure that I order the right size?

Our clothing is genderless and unisize, meant for everybody and every body, as we believe in finding the perfect shape for your body and style rather than looking at sizes. We design for every bodyshape and offer each garment in one size. We make sure to show you how each garment fits on different bodyshapes and offer measurements of every garment in the product descriptions to help you find your perfect fit.

If you are looking for extra guidance, don't hesitate to use the chat on your bottom right.
Where can I find extreme cashmere in stores?

You can find extreme cashmere in more than 300 stores around the world. Click here to find the nearest extreme cashmere selling point via our store finder.
Visit our showroom in Amsterdam at Herengracht 499 for a private shopping experience or check out our new store in St. Moritz at via Somplaz 7. 
Contact us via our chat, Instagram DM or send an e-mail to hello@extreme-cashmere.com to make an appointment. 
Follow us on instagram and subscribe to our newsletter to stay up to date on the latest store openings!
When do you go on sale?

extreme cashmere doesn't follow the traditional fashion cycle or trends, instead, we build an ongoing collection suitable for all seasons and all occasions that never goes on sale. Durability and resourcefulness are of great importance to us and we want you to enjoy your cashmere garment for years to come.
Where is your cashmere produced?

We only use the best quality and long-lasting cashmere from goats that live in mountainous areas in the Chinese region Inner Mongolia and produce locally in China. We maintain a close relationship with our manufacturers there and together with our own production team in China and Hong Kong, we make sure that all working conditions and quality control are up to the highest standards. In addition, we are registered with "The Good Cashmere Standard" and the Business Social Compliance Initiative (BCSI).
How do I take care of my cashmere garments?

Cashmere loves water! We do not recommend dry cleaning or hand wash. All extreme cashmere garments are machine washable and easy to maintain. We advise you to wash regularly in a high-quality machine on a wool program using wool detergent and no softener. After washing, dry the garment lying flat on a towel as it prevents the garment from stretching out.

Click here to read our full care instructions or check the tag on your garment for more instructions.
shipping & payments
Which countries do you ship to?

We offer free shipping for orders above € 400 and deliver to most countries around the world. Please keep in mind that the delivery times may vary per country.

Click here to read more about our shipping policy.
When will I receive my order?

Your order will be shipped within 2 business days. Delivery time may vary depending on where you are in the world.

Click here to read more about our shipping policy.
What payment methods does extreme cashmere accept?

We accept Apple Pay, iDEAL, Visa, Mastercard, Maestro card, American Express and Sofort bank transfer.
Do I have to pay duties and taxes for orders outside the EU?

No, we don't charge extra for duties or taxes. read more here.
What is your return policy?

If you're not perfectly satisfied with your order, you may request a free return for your item(s) within 14 days after purchase.

Click here to read more about our return policy.
Is your question not listed here? Our customer care team is happy to assist you! Don't hesitate to use the chat on your bottom right or send an e-mail to hello@extreme-cashmere.com.